How Backflow Preventers Keep Public Water Systems Safe and Why You Are Required To Have Your Backflow Prevention Device Inspected Annually
The water supply for most facilities comes in through a city water main.  A city water main feeds all the water needs for the building including the fire sprinkler system.  The most common question is…
What is a backflow?
It's considered a backflow when water flows from a facility's plumbing system in the complete opposite direction as it was intended.  This creates a dangerous situation.  Water that becomes stagnant can contaminate your plumbing system and pollute the city water main.
If a backflow is not maintained properly, repairs can cost thousands of dollars.
Is backflow in fire sprinkler systems dangerous?
The water inside a fire sprinkler system can become stagnant.  A Fire Sprinkler System typically holds a large volume of water.  This water does not move unless your fire sprinkler system is being tested, a fire activates it, or a fire sprinkler line breaks.  Without a backflow preventer, gravity could easily push stagnant water back into the water supply.  This makes it essential to have a backflow prevention device on your buildings water supply.
What is a Backflow Preventer?
A backflow prevention device (backflow preventer) keeps water inside your fire sprinkler system and does not allow it to flow in the opposite direction.  When your backflow is working properly and maintained, stagnant water will not pollute the city water main.  
What is the required inspection, service, and maintenance of backflow preventers?
The State of Texas requires annual inspections and testing of backflow prevention devices by a licensed fire sprinkler company that is certified for testing backflow preventers.  
Advantage Fire Protection
is certified to test, inspect, and repair backflow preventers.  For more information from the State of Texas on backflow preventers and backflow testing click this
TEXAS link
.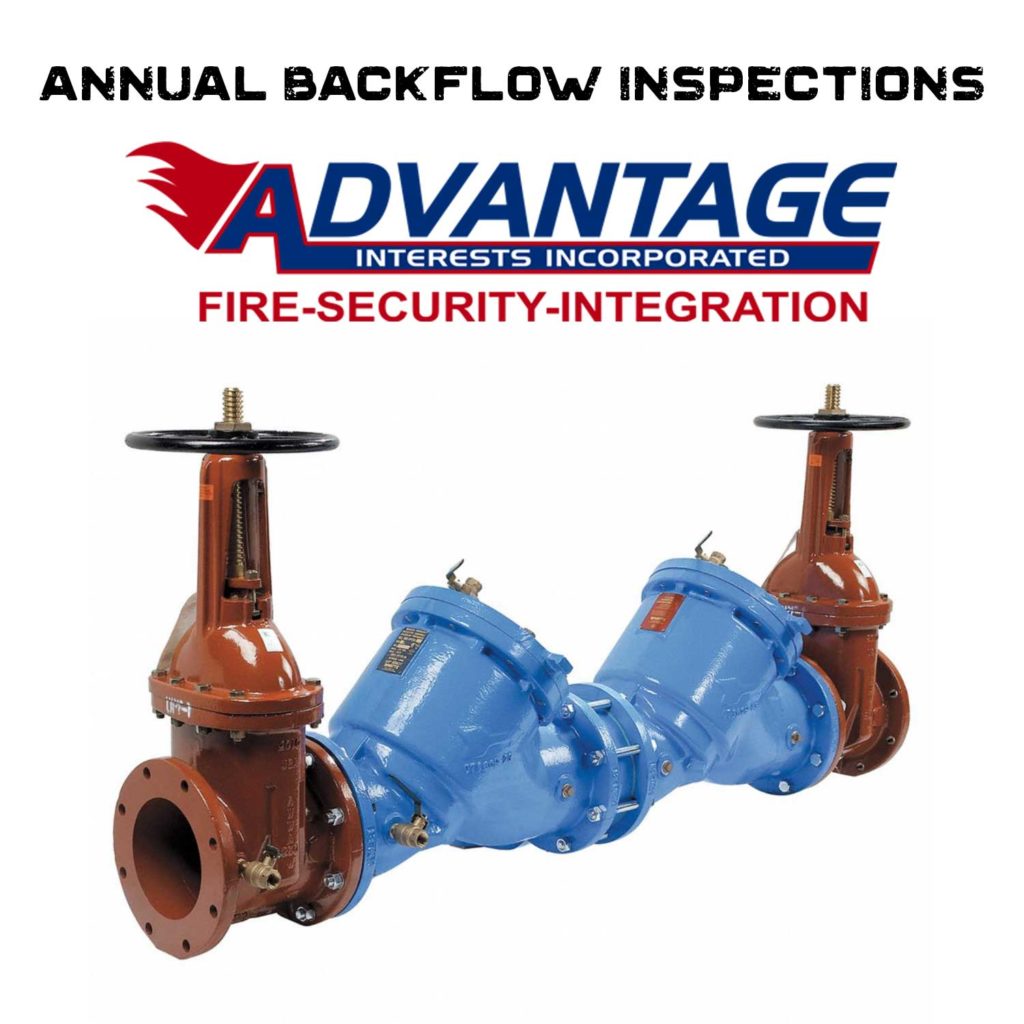 Getting your backflow prevention devices inspected and/or repaired is essential.
If you have any questions about backflow, backflow preventers, or you are ready to schedule your annual backflow preventer inspection call the professionals at Advantage Fire Protection.  You can also contact us through our
Online Form
.
Houston TX and the surrounding area Backflow Inspections call (713) 983-7253
New Braunfels TX and the surrounding area Backflow Inspections call (830) 455-3473