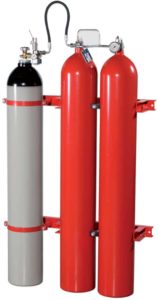 Advantage Interests Inc. is the leading source for Houston fire suppression systems and provides comprehensive installation, repair, and replacement services for a wide range of commercial and industrial facilities:
Apartment buildings
Hotels
Warehouses and distribution centers
Ocean-going vessels
Port facilities
Offshore oil drilling rigs
Petroleum refineries
Chemical plants
Our fire suppression solutions provide solid protection for your facilities and ensure the safety of your workers even in high-risk activities and areas.
Fundamentals of Fire Suppression
At Advantage Interests Inc., we provide a full range of fire suppression solutions to include fire sprinklers, foam and clean agent systems, and a variety of fire alarm setups.
We are the leading source for Houston fire sprinkler and foam fire suppression systems and can create a system that protects your inventory as well as your facility and your workers.
Our clean agent systems protect sensitive electronic and computer equipment from harm while effectively suppressing fires in server rooms, computer arrays, and other areas.
Fire alarms are a critical element in all of our fire protection setups. Strobe lights, emergency lighting, and clearly audible alarm tones ensure that your staff members, tenants, and guests can evacuate the facility quickly and with minimal risk to life or health. Our addressable fire panels provide centralized monitoring capability to allow for faster responses in the event a fire does occur.
Advanced gas detection systems can alert workers and management to dangerous dips in air quality or the presence of flammable or toxic chemicals, especially in petroleum refineries, on oil rigs, and in chemical processing plants.
Our integrated systems provide solid protection for people and property in the Houston metropolitan area.
Comprehensive Houston Fire Protection
The experts at Advantage Interests Inc. can help you design the right fire safety system for your particular facility. Our professional fire safety consultants will tailor an integrated fire protection system to suit your needs and will work with you to find the most cost-effective solutions to your particular situation. We install only the highest quality equipment and perform all work to city codes and industry standards. If your current system requires repairs or upgrades, Advantage Interests Inc. can deliver the right solutions for your fire safety needs. As the leading Houston fire protection company, we stand behind our work and service the systems we sell, allowing you to buy with confidence from our trained professionals.
At Advantage Interests Inc., we offer expert help in designing and upgrading your fire safety systems with advanced gas detection and fire suppression solutions that reduce damage to your property and provide valuable time for your staff members to exit the area safely. Contact us today to discuss your fire suppression needs with one of our knowledgeable staff members and begin your journey to a safer tomorrow.