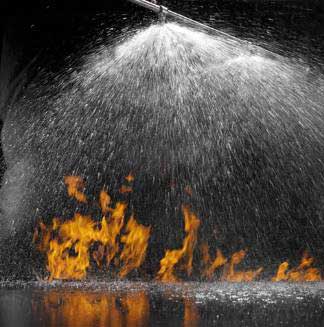 Sprinkler systems have been around since the early 1800s; the first recorded fire sprinklers were installed in 1812 to protect audiences at the Theatre Royal in London, England. This system consisted of large tankards of water connected to a network of tubes over the seating area; in the event of fire, the water would be manually released to put out the fire quickly. Fire sprinklers have evolved significantly since that time. Today, fire sprinkler systems are standard equipment in most schools, hotels, apartment buildings, warehouses, and other industrial and commercial sites. Advantage Interests Inc. offers a full lineup of fire sprinkler systems and fire suppression solutions designed to keep your workers safer on the job.
Automatic Fire Sprinkler Solutions
Fire sprinklers are required by many state and local building codes for all new construction. High-rise buildings and facilities with extensive underground work areas are generally subject to federal regulations requiring the installation of fire sprinklers; additionally, the 1990 Hotel and Motel Safety Act requires sprinklers in all facilities that receive federal funding. At Advantage Interests Inc., we can retrofit your buildings with sprinkler systems designed to comply with all applicable standards and regulations to ensure a greater degree of safety for your employees. We also provide expert repair services for all types of water sprinkler systems in the Houston area.
An Array of Choices
The technical experts at Advantage Interests Inc. will work with you to determine the most suitable solution for your company's needs. We can install, repair, and maintain wet and dry pipe systems, foam-water combination systems, targeted water sprayers, water mist systems, and other fire suppression solutions designed specifically to provide optimal protection to staff members and visitors to your facility. At Advantage Interests Inc., we also offer fire protection design and consulting services for your company. Our technicians have experience in creating solutions for offshore drilling rigs, petroleum refineries, ships, warehouses, and chemical processing plants and laboratories. We can design the right solution for your company's unique set of fire safety needs.
Fire Detection Solutions
Advantage Interests Inc. also provides a full range of fire detection solutions to complement your company's fire sprinkler array. We deliver the most advanced fire control panel systems and fire alarm options to ensure greater safety for your facility and your staff. Our comprehensive knowledge of the fire safety industry allows us to provide cost-effective fire alarm repairs to ensure optimal safety in your facility. Ionization, photoelectric, and combination smoke and heat detection systems can provide valuable early warning for you and your staff during the first stages of a fire. We also install and service gas detection systems for refineries, offshore oil drilling platforms, and other facilities in which toxic or flammable materials can present a risk to workers.
At Advantage Interests Inc., we deliver comprehensive fire protection and fire suppression services for our customers in the Houston metropolitan area and around the world. We work with you to design a cost-efficient fire safety system that meets your precise specifications and that protects your workers and your worksite effectively. Contact us today to set up a service appointment or consultation. We look forward to hearing from you.