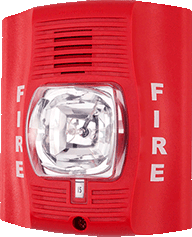 Fire alarms provide early warning for commercial and industrial facilities to ensure greater safety for staff members and guests in these buildings. At Advantage Interests Inc., we sell and install the most effective fire alarm systems from top manufacturers to ensure that our clients are protected. We are an established Houston fire protection company and offer a full line of fire alarm systems that include the following:
Conventional fire panels for smaller facilities, including retail establishments, restaurants, apartment buildings, and schools
Addressable fire panels that deliver pinpoint accuracy for locating fires quickly and that allow at-a-glance monitoring of entire facilities
Zoning options that provide tailored protection throughout your entire site
Combination systems that allow prompt responses to fires and other threats
Centralized stations that comply with building codes and National Fire Protection Association standards for monitoring
Advantage Interests Inc. sells and installs systems and products manufactured by major names in the fire alarm and suppression industry, including Kidde, Notifier, Ansul, and Siemens. We also repair existing systems to ensure that your facility is properly protected against fire.
Types of Fire Alarm Systems
Most fire alarm systems can be categorized as heat detectors or smoke detectors. Heat detectors are best suited for confined areas where fast-burning fires are most likely. Smoke alarm sensors include the following:
Photoelectric sensors
Ionization smoke detectors
Combination units
At Advantage Interests Inc., we work with you to determine the most effective configuration of heat detection and smoke detection devices for your budget. Addressable fire panels allow you to pinpoint the area of the fire and to ensure that your employees exit the premises safely. As recommended by the National Fire Protection Association, we use combination ionization-photoelectric sensor units to ensure the most effective protection for your staff members and for your facility. High-intensity strobe lights can be combined with our audible alarm systems to alert hearing-impaired staff in the event of fire. We are the leading suppliers of Houston fire sprinklers and can design an integrated fire protection system designed to meet your company's needs.
The Best in Houston Fire Alarms
Our trained technicians have the experience and know-how to help you design the most effective fire alarm system for your particular facility. Advantage Interests Inc. will work with your company to ensure that your completed installation is in compliance with all applicable standards and Houston city codes. We also adhere to the requirements set forth by the U.S. Occupational Safety and Health Administration (OSHA) for fire prevention and worker protection, allowing you to maintain your operations in a safe and productive way. Our experience in industrial and commercial fire suppression systems ensures the most effective protection for your workers and your property.
By working with the knowledgeable professionals at Advantage Interests Inc., you can maintain a safer working environment for your employees. We provide full initial installation, service, and replacement for all types of fire alarm systems and stand behind our work to ensure your full satisfaction. Contact us today to discuss your fire alarm needs with our experienced and courteous staff. We look forward to working with you.