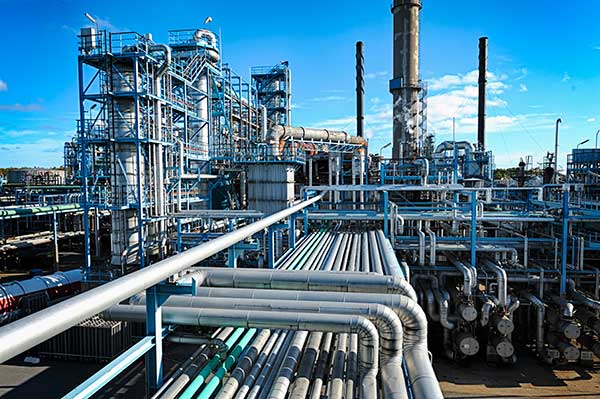 Industrial facilities require advanced fire safety systems to keep workers safe. This is especially true in chemical plants, oil and gas refineries, and on offshore drilling rigs where flammable or toxic substances are extracted and processed. At Advantage Interests Inc., we have years of experience in the Houston fire suppression and safety industry. Our knowledgeable professionals will work with your company to create a comprehensive fire protection plan that keeps your workers safe and your facility in compliance with all applicable local, state, and federal regulations.
The Best in Fire Detection and Alarm Systems
Advantage Interests Inc. can upgrade your antiquated fire alarms to a modern addressable system with a centralized fire control panel. This can allow faster response times for firefighters by identifying the precise location of the fire. We also install combination systems that incorporate photoelectric and ionization sensors:
Photoelectric sensors detect changes in the refraction of an interior light beam caused by smoke; as a result, they are most useful for fires that create a good deal of smoke.
Ionization sensors use radioisotopes to create a small area of ionized atmosphere inside the detector. Ambient smoke changes the properties of the ionized air, causing the sensor to set off the fire alarm.
The skilled technicians at Advantage Interests Inc. can also design and install gas detection systems and fire sprinklers designed specifically for warehouses, oil refineries, manufacturing plants, and other industrial real estate facilities. Our fire alarm systems incorporate audible and visible alerting cues and are tailor-made to suit your company's needs.
Houston Fire Suppression Services
Advantage Interests Inc. specializes in providing fire suppression design and installation services for Houston industrial facilities. Our extensive lineup of fire protection and suppression services includes the following products and systems:
Engine shutdown systems for use in manufacturing plants and refineries
Water sprinkler systems for use in warehouses and other industrial facilities
Specialized fire protection for gas and wind engine turbine systems
Galley and kitchen hood systems for use on ocean-going vessels and offshore oil rigs
Vent snuffing systems that use carbon dioxide to prevent flashbacks in the event of fire
Clean agent fire suppression systems for server rooms and other areas where electronic equipment is in use
We also service and recharge these systems to ensure that they are in proper working order and ready to protect staff members and industrial facilities against the damaging and destructive effects of fires.
At Advantage Interests Inc., we deliver the best fire safety solutions for industrial facilities in the Houston area. Our knowledgeable and experienced technicians can design and install comprehensive fire suppression and protection systems tailored to your operations and your facilities. Contact us to discuss your corporate fire safety requirements with our professional team of fire safety experts today.