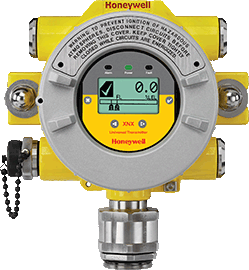 Gas detection systems are essential safety equipment for offshore rigs, industrial facilities, and other areas where dangerous chemicals can present a risk to workers and can lead to catastrophic fires and explosions. At Advantage Interests Inc., we specialize in providing the most advanced and effective Houston gas detection and fire protection systems for our industrial clients. We are a full-service Houston fire protection company and deliver the best solutions for your specific situation. Depending on your company's needs, we offer a full range of gas detection options for your facility:
Fixed gas detection sensors that monitor the air using electrochemical sensors and warn workers of drops in oxygen levels or rising levels of toxic or flammable gas in the target area
Area detection solutions that network numerous smaller sensor units into one centralized computer monitoring system
Wireless systems that communicate seamlessly with each sensor to provide an ongoing picture of air quality throughout facilities
The Advantage Interests Inc. can also provide portable gas detectors for individual employees and specific areas. These smaller devices can offer cost-effective protection even in areas where permanent gas detection systems are an impractical solution.
Fixed Gas Detection Sensors
Offshore oil rigs, chemical plants, and industrial facilities require continual monitoring of air quality to ensure the safety of their workers. Fixed gas detectors are stand-alone units that provide coverage for a specific area. Depending on the type of work performed in the facility, the detection system can be calibrated to identify buildups of flammable gases or to detect even minute traces of airborne toxic chemicals. The experienced professional team at Advantage Interests Inc. can install, service, and maintain fixed gas detection systems to ensure safety throughout your facility.
Area Detection Services
Area gas detection systems consist of a centralized control unit combined with numerous sensors located throughout the work area, allowing continuous monitoring in one central location. Fail-safe mechanisms alert operators when any of the sensors fail to respond as expected; this ensures greater dependability and lower risk for employees in the workplace environment. Both area and fixed systems can be linked to fire alarms and fire suppression equipment to provide added protection for workers.
Wired or Wireless
Depending on your company's aesthetic preferences and fire suppression needs, wireless area detection systems can provide solid protection against toxic, flammable, and hazardous gases without visible wires and connectors. These systems can be designed to provide redundant monitoring in critical areas of your plant and can ensure early warning of dangerous situations before they become full-fledged catastrophes.
Advantage Interests Inc. is the leading source for Houston fire protection systems. We sell and install a full range of fire alarms, fire sprinklers, and gas detection solutions while standing behind what we sell with top-quality service and maintenance. Contact us today to design a comprehensive gas detection system that protects your workers and your company from the effects of these dangerous chemical compounds.