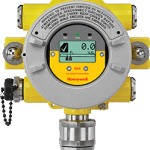 Gas detection is of critical importance in industrial environments, including offshore drilling rigs, land based refineries and chemical plants. The right Austin gas detection solutions can ensure the greatest safety for your workers and the best protection for your property. Here are some of the most common challenges when implementing gas detection systems for your facility.
Where Should Gas Detection Sensors Be Installed?
Determining where your Austin, New Braunfels or San Antonio gas detection sensors should be placed can be challenging, especially for companies unfamiliar with these advanced property protection systems. In general, your gas sensors should be located in the areas most likely to vent gas or to leak if pressure limits are exceeded.
If lighter-than-air gases are most likely to be present in a specific area, positioning sensors at higher levels of the room is usually the most practical approach to gas detection.
Heavier-than-air gases tend to sink toward the floor. Sensors to detect these gases should be installed at a lower level of the room.
Working with a qualified fire protection company is usually the most practical way to determine the proper placement for gas sensors and other elements of your gas detection system.
Configuring Your System
Determining which kind of system is right for your San Antonio, Austin or New Braunfels gas detection requirements can sometimes be difficult. In general, you can choose between stand-alone sensors that monitor air quality and detect gas in a specific area of your facility or area gas detection systems that interface with each other.
Stand-alone fixed sensor arrays are usually installed in higher-risk areas and can be calibrated to suit the specific needs of your company. This can sometimes provide earlier warnings of leaks or buildups of toxic or flammable gases in certain areas of your facility.
Area detection systems generally allow for centralized control and monitoring and may communicate using wired or wireless connections. Wired systems can usually communicate more reliably than wireless systems, making them a preferred choice for many facilities. Wireless systems, however, are ideally suited to connect multiple sensors into one control array without stringing wires across the length of your factory or chemical processing plant.
By working with a qualified fire protection and Austin gas detection company, you can obtain the most practical recommendations and the best guidance for implementing, calibrating and maintaining gas detection equipment within your facility.
The experts at Advantage Interests Incorporated can provide you with the right Austin gas detection solutions for your industrial needs in Texas. We offer comprehensive fire protection and gas detection systems that can provide real support for your operations in the Austin, San Antonio, Houston or New Braunfels area. Call us today at 713-983-7253 in Houston or 830-455-3473 in New Braunfels to discuss your fire protection needs with us. We look forward to the opportunity to serve you.