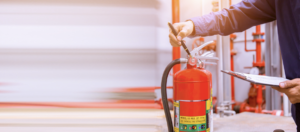 Creating a plan for your commercial fire prevention efforts is critical to protect your staff, buildings and inventory against fires. It is important to install the right San Antonio fire suppression systems for your fire safety plan. Here are four aspects to consider when planning for fire prevention and safety for your business.
The Right Signage
Emergency exit signs are required by law. They are there to provide clear paths to safety for staff members and other guests. So, you should make sure that all signs are in place and clearly visible. This will help promote the safest setting for your customers, vendors and employees. Also, exit signs ensure that your business stays on the right side of emergency signage codes and fire protection.
The Best San Antonio Fire Suppression for Your Facility
Depending on the types of fire hazards present in your building, you may need different equipment. San Antonio fire sprinklers, dry chemical suppression systems or other types of fire suppression equipment can be designed for your needs. In addition, work with a company that specializes in San Antonio fire suppression and fire safety services for help guide your fire protection. They will help you ensure the safest environment in your facility.
The Most Practical Early Warning Systems
Next, update and upgrade your San Antonio fire alarms to help your business provide safety for staff members and customers alike. Fire alarms and fire detection systems are crucial for your fire safety plan. Invest in advanced fire systems for your industrial facilities, retail shops and restaurants. This will help you find the safest and most practical options to protect your property and people from fires.
The Right Practice Sessions for Your Staff
Employee fire safety training is often overlooked. For this reason, schedule practices and fire drills to help your employees know the escape routes and strategies for almost any fire event. This will help prepare your staff in case a fire breaks out in your building.
At Advantage Interests Incorporated, our team offers practical and cost-effective San Antonio fire suppression options for your business. We work with restaurants, manufacturing facilities and many other businesses in the San Antonio area. Our goal is to provide the right fire safety options for our clients. Call us today at 830-455-3473 for more information or to schedule a consultation with our team. Advantage Interests Inc. is here to serve you now and in the future.