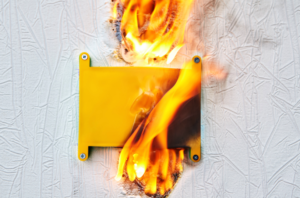 Your company depends on your Houston fire alarms to provide early warning of all types of fires, including electrical fires. According to figures released by the U.S. Fire Administration, about 24,000 electrical fires occur every year. Many of these fires could be prevented by regular inspections and maintenance from your Houston fire protection company. Electrical fires in our area occur by a few common causes and some helpful hints can help you to avoid these issues.
Improperly Wired Outlets
One of the most commonly reported reasons for electrical fires in our area is improper wiring practices, which include running wires under rugs or other floor coverings and failing to update your electrical system to the latest codes. Aging electrical wiring is at greater risk of failure, which could put your property and people at greater risk within your facilities. Improperly installed electrical outlets can overheat to cause serious issues for you and your business. Making sure your Houston fire alarms are functional and ready to react to the first signs of electrical fires can give your staff members advance warning of these issues within your facilities.
Use of Space Heaters
In smaller businesses, space heaters are often used to provide added warmth in warehouses, distribution centers and office spaces. These heaters are one of the primary risk factors for electrical fires in both residential and commercial facilities. By upgrading your heating and cooling system or opting for ductless systems, you may be able to reduce the risk of electrical fires on your premises while ensuring practical heating solutions during the winter.
Malfunctioning Appliances
Coffee makers, toasters and microwaves should be inspected regularly and replaced when they begin to show signs of age. Making sure the right Houston fire suppression systems are in place will provide added safety for your facilities if unexpected electrical fires do start in these small appliances.
Lighting Fixtures
Installing the wrong light bulbs for your fixtures can cause them to overheat, resulting in electrical fires that can pose many risks. Making sure that your bulbs are the proper type and wattage for your fixtures will reduce the risk of electrical fires that originate in these fixtures.
At Advantage Interests Inc., we specialize in providing Houston fire alarms, fire suppression and gas detection systems designed to suit your needs and your budget perfectly. We work with companies across the Houston area to provide comprehensive fire safety services in the industry. Give our team a call today at 713-983-7253 to schedule a consultation or to request a quote from us. We look forward to the opportunity to serve you.