Local Houston TX Fire Alarm Experts help Houston TX Businesses
Advantage Interests is your total Fire Alarm Inspection and Repair resource. Our fire alarm techs are expertly trained in fire alarm systems and well educated on local Houston TX Fire Codes. We offer service in addition to technologically innovative fire alarm systems that are intuitive, scalable, and reliable.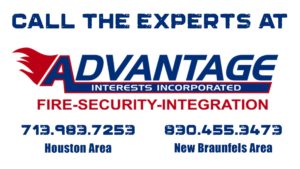 A reliable way to prevent the loss of life and property is to catch potential problems early. Inspections, service, and testing, according to the National Fire Protection Association Standards, will certainly ensure that your fire alarm system will perform as it was designed.
Fire Alarm Inspections Houston TX
Each fire safety system has its own inspection as well as upkeep schedule. As an example, a fire alarm system is required to be inspected yearly, a sensitivity examination is mandated every 2 years, and your smoke dampers are required to be inspected every 5 years.
Advantage Interests will ensure your Fire Alarm System is Fire Code Compliant and in proper functioning order.  We are your complete fire alarm source for the Houston TX area.
We provide…
Fire Alarm Service and Inspections
Fire Alarm Repair
Fire Alarm Troubleshooting
Fire Alarm Design
Fire Alarm Installation
Have a new project or retrofit project starting. Our Fire Alarm Design team will certainly find and design the best solution for your structure.
Call the Fire Alarm Experts at Advantage Fire Protection.
7840 West Little York Road
Houston, TX 77040
(713) 983-7253