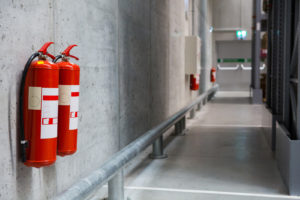 The design and implementation of a fire safety system goes far beyond the installation of a few San Antonio fire alarms and emergency lighting. A comprehensive fire safety plan involves the right equipment, exit strategies and training for your staff members. In most cases, this will involve a thorough assessment of your current fire safety implementation by a San Antonio fire protection company. These experts will provide you with suggestions on how to upgrade your system and increase the safety of your property and employees.
Principles of Fire Safety Design
In general, fire protection systems incorporate three basic components:
Passive fire protection systems are structural elements that act to contain fires or to reduce the risk of fires within a specific area. These may include fire-resistant building materials, fire doors, compartmentalization of working areas and other elements incorporated during the construction process.
Active fire protection consists of the San Antonio fire suppression, detection and alarm systems that provide immediate response capabilities for your building. These systems spring into action as soon as a fire is detected.
Training and education for workers is the final component of your company's fire protection plan. Instructing your staff members on what to do when your San Antonio fire alarms go off is critical to ensure that they stay safe in your building or facility.
These three elements are essential to your company's ongoing efforts to maintain a safe environment for your people and your property.
The Right Solutions for a Range of Fire Types
Fires are classified according to the materials they use as fuel:
Class A fires burn wood, paper and other normal combustible materials.
Class B fires are fueled by flammable liquids or gases.
Class C fires usually begin with issues in electrical wiring and use electronics and other electrical equipment as fuel.
Class D fires are fueled by combustible metals.
Class K fires are also known as cooking fires and are often the result of grease or cooking oil catching fire.
Your fire protection company will provide you with an evaluation of your facility's risk factors and will recommend the appropriate fire suppression equipment for your company's specific set of needs.
At Advantage Systems Incorporated, we specialize in designing and installing San Antonio fire alarms, fire suppression systems, security measures and many other elements of a comprehensive fire safety implementation. Call our offices today at 830-455-3473 to schedule a consultation with our team. We look forward to the chance to serve you.