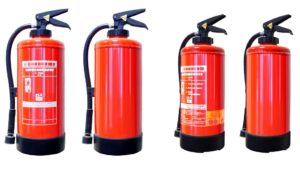 As a business owner, you probably understand the importance of fire extinguishers as part of your overall fire safety plan. What you may not know is that fire extinguishers come in several different varieties that are designed specifically to combat certain types of fires. Working with an established San Antonio fire protection company can help you determine which of these options is right for your business. Here are some of the most important points to remember when choosing a fire extinguisher for your business premises.
The Five Categories of Fires
Fires are generally divided into five categories depending on the type of fuel the flame consumes:
Class A fires consume combustible materials like wood, plastic, paper, fabrics and household trash.
Class B fires are fueled by gasoline, oil paints, propane, kerosene and other flammable liquids or gases.
Class C fires are electrical fires that may start in appliances, electronic devices, interior wiring or HVAC motors.
Class D fires use combustible metals like aluminum, potassium, titanium and magnesium as fuel. These metals are most commonly found in laboratory settings and chemical plants.
Class K fires are more commonly referred to as cooking fires and typically involve burning oils and fats.
Each of these types of fires requires a specific approach to ensure the fastest and most effective control over these destructive events. Your Austin fire protection company can provide you with expert guidance on the most practical fire extinguishers for your company.
Types of Fire Extinguishers
Fire extinguishers are available in an array of configurations, including the following:
Class K fire extinguishers are designed to combat Class K cooking fires in kitchen environments.
ABC dry chemical fire extinguishers are designed to provide multipurpose fire control for Class A, B and C fires. These include wood and paper fires, gas and fuel fires and electrical fires in the business environment.
Carbon dioxide fire extinguishers are typically used in laboratories to suppress liquid fuel fires and electrical fires quickly and effectively.
Water mist fire extinguishers and sprinklers are typically used in areas where normal ABC dry chemical units could cause damage to some equipment.
Sodium chloride fire extinguishers are intended for use in areas where flammable metal materials are stored or used.
Your local New Braunfels fire protection company can help you to create a comprehensive fire safety plan that incorporates well-placed fire extinguishers of the proper type. This can ensure the greatest safety for your people and your property if a fire should occur.
At Advantage Interests Inc., we work with companies throughout Houston, San Antonio and New Braunfels to provide the most effective and practical solutions for industrial and commercial fire protection, security and integrated system design for our clients. Call us today at 713-983-7253 in Houston or 830-455-3473 in San Antonio and New Braunfels to schedule a consultation with our team. We are here to serve you.