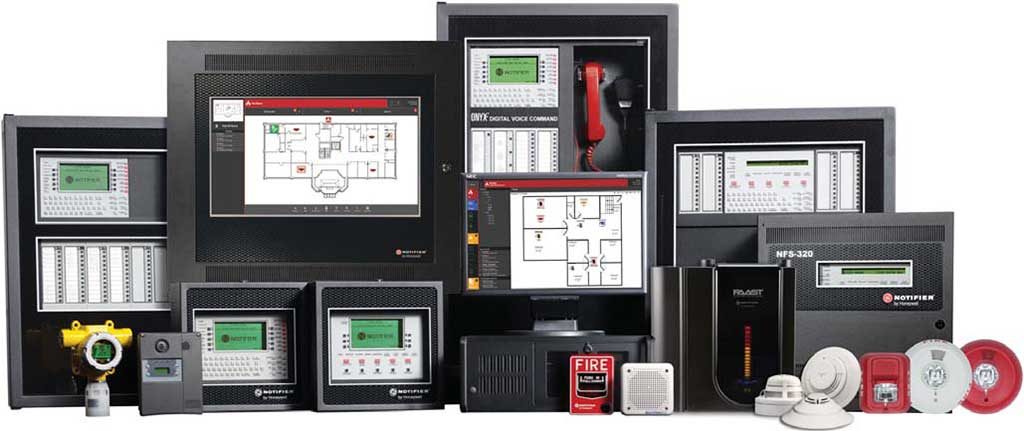 A part of the Honeywell family of companies, is one of the most respected and reliable names in the fire safety field. Established in Nebraska in 1949, NOTIFIER achieved success early in its history and was chosen as the fire alarm supplier for the 1962 Seattle World's Fair. In 1987, NOTIFIER became part of the Pittway Corporation and expanded its operations significantly. This allowed NOTIFIER to achieve independent certification under ISO 9001 quality management standards in 1993, the first fire alarm manufacturer to do so. After Honeywell's acquisition of Pittway Corporation in 1999, NOTIFIER became the heart of the Honeywell Fire Systems Group and continues in that role to the present day. Advantage Interests Inc. installs, reconditions, and repairs a full range of NOTIFIER fire alarm systems to ensure the safety of your workers and your facility.
Cutting-Edge Fire Detection Technology
NOTIFIER has always been on the leading edge of fire alarm and detection technology. In 1996, for example, NOTIFIER created the fire safety industry's first laser spot-type intelligent fire detection system. At Advantage Interests Inc., we can create an integrated solution for your industrial, commercial, or offshore facility that incorporates advanced NOTIFIER technologies to ensure the safety of your workers and your property:
ONYX Series fire control panel systems to reduce the frequency of false alarms while ensuring faster responses to actual fires
FirstCommand and FireWarden emergency communications systems to provide added alerting capabilities in smaller facilities and outbuildings
Centralized control over alarm and alerting functions to allow building maintenance staff to identify the location of a fire more rapidly
Advanced gas detection solutions ideal for use in areas where toxic or flammable gas leaks could pose a threat to worker safety
NOTIFIER network integration platforms to combine all elements of building control and management into one easy-to-use interface
A full range of fire safety equipment, including fire sprinklers, fire suppression systems, and networking solutions
Advantage Interests Inc. will work with you to design and install a fire protection system for your commercial, industrial, or offshore facility. We carry product lines from top manufacturers like Ansul, Kidde and NOTIFIER to ensure solid fire protection in a wide range of working environments:
Commercial and retail locations
Apartments and hotels
Ocean-going vessels and offshore oil rigs
Petroleum refineries and chemical processing plants
Distribution centers
Manufacturing plants
We are committed to providing you with the best fire protection options in the Houston marketplace.
At Advantage Interests Inc., we use top-quality equipment and proven technologies to create a fire protection, detection, and suppression system designed specifically for your facility. We perform all work to comply with local, state, and federal building codes and standards and to ensure your complete satisfaction with every job we do. Contact us to speak with one of our highly trained and knowledgeable technicians today.