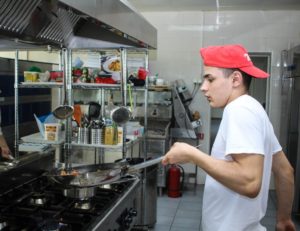 Restaurants and food service facilities require special fire protection measures to operate safely and within the letter of the law. Working with a San Antonio fire protection company can help you to determine the right approach for your needs. Here are some of the most important elements to include in your restaurant fire protection plan.
Fire Alarms
Investing in San Antonio fire alarms is necessary to protect the safety of your customers and your staff members in the restaurant setting. Your fire alarms are the first line of defense against injuries to your employees and patrons. A company that specializes in comprehensive fire safety services and equipment can determine the right configuration for your fire alarms installation. This will help you stay on the right side of the rules and regulations that cover restaurant safety in the San Antonio area.
Fire Suppression Systems
Sprinklers are a proven way to deliver added protection for dining areas and lobbies in your restaurant. For your kitchen area, wet chemical fire suppression systems are required to avoid issues with water hitting hot grease and oil. These automated systems release chemicals to produce a foam that coats the fire and reduces the temperatures inside your kitchen. Your San Antonio fire protection company can design a system that meets legal requirements and provides the best protection for your restaurant.
Class K Extinguishers
Most areas require the presence of portable Class K fire extinguishers in commercial kitchens. These devices are designed to be used after the automated fire suppression system is deployed to offer another level of protection. Class K extinguishers are an excellent way to provide a solid back-up to the other fire control systems present.
Advantage Interests Incorporated is a leading San Antonio fire protection company that specializes in industrial, commercial and offshore installations. We work with companies large and small to provide the right solutions for all their fire detection and suppression needs. Our team can design and install San Antonio gas detection solutions and other systems to suit your needs. If you require the assistance of a proven leader in the fire protection field, call us today at 830-455-3473. We look forward to the opportunity to serve you.