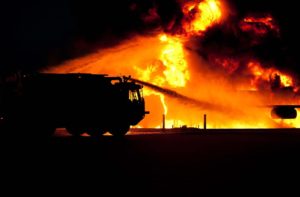 A fire that occurred on March 17, 2019, has resulted in charges being levied against a Houston company by the Harris County District Attorney's office. Intercontinental Terminals Company (ITC) are looking to be held accountable for the failure to resolve violations that may have led to the fire at its Deer Park facility. Along with the damage caused by the fire, chemicals were also released into Tucker Bayou, a creek that feeds directly into the Galveston Bay and Gulf of Mexico. With the implementation of a Houston fire suppression system in industrial facilities, some of the fire damage could be potentially minimized.
Dangers to Residents in the Area
Xylene and benzene are two of the chemicals that were released after the St. Patrick's Day fire. Authorities believe that benzene was released into the water starting on March 17 and continuing through March 21, when benzene was also detected in the air. An official recommendation was made to residents in the area to stay inside for a few hours that day. A dike operated by ITC gave way on March 22. This released even more pollutants and flammable substances into the nearby Houston Ship Channel. The breach necessitated even more cleanup efforts and put the residents of Deer Park at further risk.
The Right Fire Plan Makes a Difference
The ITC fire highlights the need for a comprehensive Houston fire suppression and protection plan that encompasses all aspects of operations. Installing Houston fire alarms and sprinklers will help to keep your employees and property safe. Consider all potential risks and consequences before finalizing your fire safety plan. This will help you to deal with these issues before they arise. A proper safety plan can promote the safest working environment and help to avoid the issues now faced by ITC.
The Houston fire suppression team at Advantage Interests Incorporated can install systems designed to meet all applicable standards and to protect staff members. Our Houston fire protection company is dedicated to providing you with the right options for all your needs. We have the experience you need to ensure the best outcomes for your company. This can protect your corporate reputation while boosting safety throughout your organization. Call Advantage Interests Incorporated today at 713-983-7253 to discuss your fire protection needs with us. We look forward to the chance to work with you.