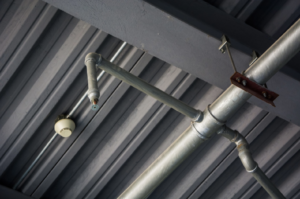 Your company depends on your Austin fire sprinklers to protect against fires and to promote the safest environment for the occupants of your buildings. Water mist fire sprinklers are designed to deliver fine drops of water in areas where traditional sprinklers could cause excessive water damage to equipment, furnishings or electronics. Understanding the benefits of water mist systems will help you to make the most appropriate choices for your Austin fire suppression needs.
How Water Mist Sprinklers Work
Traditional Austin fire sprinklers use a deluge of water to put out fires in commercial and industrial buildings. This provides an immediate response to fires that generate a significant amount of heat or that trigger your Austin fire alarms. The water released by sprinkler systems, however, is capable of damaging equipment and electronics. For many businesses, upgrading to water mist sprinklers is an excellent way to protect your valuable items while ensuring the best possible fire protection for your building.
Benefits of Water Mist Sprinklers
While water mist systems are not appropriate for all areas, they are designed to reduce the amount of water damage caused by your fire suppression system. Some of the most important benefits of these systems include the following:
Like water sprinklers, mist systems are non-toxic and are safe for use even in areas where people are located. This makes them ideal for use in public spaces inside offices and restaurants and in other areas in which fire protection is needed.
Water and water mist are environmentally friendly options for fighting fires in commercial and industrial settings.
Water mist systems use less water, which will reduce consumption and will limit damage to your furnishings, flooring and other items inside your commercial spaces.
Because it is useful in combating a wide range of fires, water is an ideal solution for many commercial and retail locations.
These benefits make water mist systems a preferred solution for businesses that currently have traditional water sprinklers in place and that are looking to upgrade their fire protection systems.
At Advantage Interests Incorporated, we offer a range of Austin fire sprinklers, alarm systems and other fire protection solutions designed specifically for your needs and your business. We have more than two decades of proven experience in providing the right solutions for a wide range of facilities, including oil rigs, industrial processing plants, apartment buildings, restaurants and many other commercial and industrial buildings. Call our team today at 830-455-3473 to discuss your requirements with our experienced technicians. We look forward to the opportunity to serve you.